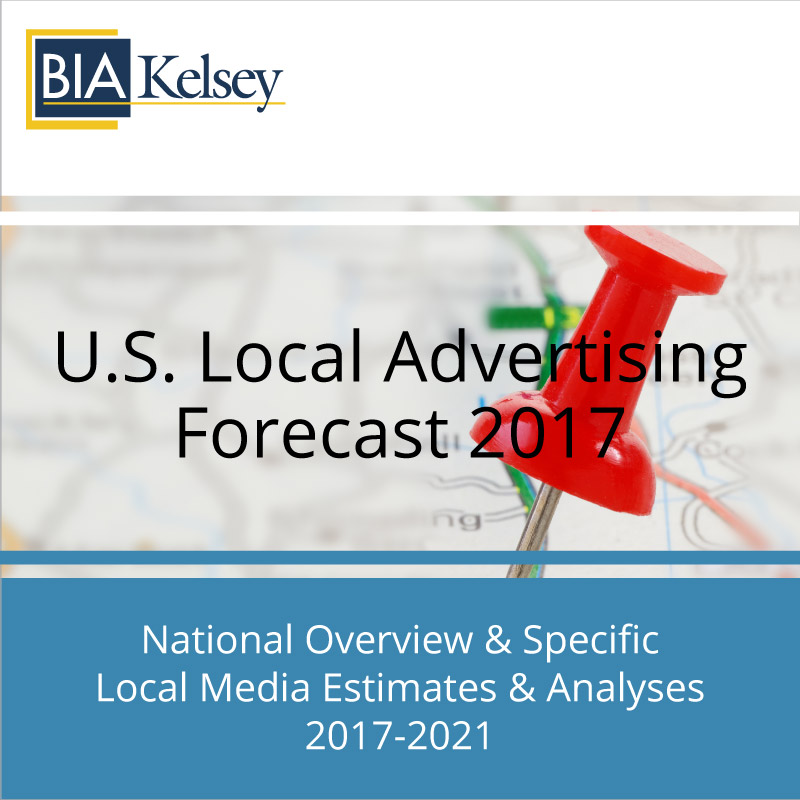 U.S. Local Advertising Forecast 2017
The U.S. Local Advertising Forecast 2017 provides a complete overview of paid U.S. local advertising. It includes a five-year national overview of total U.S. spending in local markets and market-based advertising revenue estimates for twelve media (i.e., online/digital, mobile, direct mail, television, radio, IYP and PYP, Out-of-Home, social, newspapers and magazines.) The forecast provides 360-degree view of the market for local advertising — defined as some form of targeted messaging to specific geographic markets — spent by national, regional and SMB advertisers
Category: Industry Forecasts
Tags: digital ad revenues, direct mail advertising, directory publishing ad revenue, geotargeted advertising, IYP advertising, local ad forecast, local ad revenue, mobile ad revenue, national ad forecast, OOH advertising, out of home advertising, PYP advertising, radio ad revenue, social advertising, television advertising, U.S. advertising forecast
Product Description
The U.S. Local Advertising Forecast 2017 delivers a five-year national overview of total U.S. spending in local markets and market-based advertising revenue estimates for twelve media. BIA/Kelsey defines local advertising as all advertising platforms that provide access to local audiences for national, regional and local marketers.
The forecast offers a comprehensive and authoritative view of the local landscape, delivering an objective and credible five-year market outlook and analyzing the key drivers and assumptions behind top-line numbers. In addition to the national forecast, individual media covered in the forecast include:
Direct mail
Directories
Local video
Local over-the-air television
Local cable television
Magazines
Mobile
Newspaper
Online
Out-of-home/OOH video
Radio
Social
Companies use the U.S. Local Advertising Forecast to:
Acquire a reliable view of the ad spend in local media
Understand the market outlook now and in five years
Gain insights around the key drivers and assumptions behind top-line numbers
Drill into specific media to track activity and opportunity
Forecast Contents
National Overview – Total U.S. Spending
Total U.S. ad spending nationally and in local markets (analysis and insights by BIA/Kelsey Chief Economist and analyst team)
Local advertising five-year forecast
Local ad market and traditional media
Steady shift toward digital media (dollars & percentage)
Individual Media Forecasts
Five-year forecasts for each media
Revenues and shares for each media
Order of media per their contribution to local media pie in 2016
Annual revenue changes for each media
Critical Analysis Topics
Local video advertising revenue and distribution across media
Location-targeted mobile ad spend and revenues
Mobile advertising revenue drivers
Local-Targeted Mobile Ad Spend by Format
S. social mobile versus desktop/tablet ad spend
Social media advertising by company
Television and radio over-the-air and online revenue
Local versus national ad spend for mobile and social
Distribution of 2017 Local Radio Station Advertising
Key media takeaways
Who Should Read This Report?
Media executives in charge of planning and budgeting advertising spending
Sales leaders and sales strategists
CMOs
CROs
Any executive with a role in selling digital advertising or marketing solutions