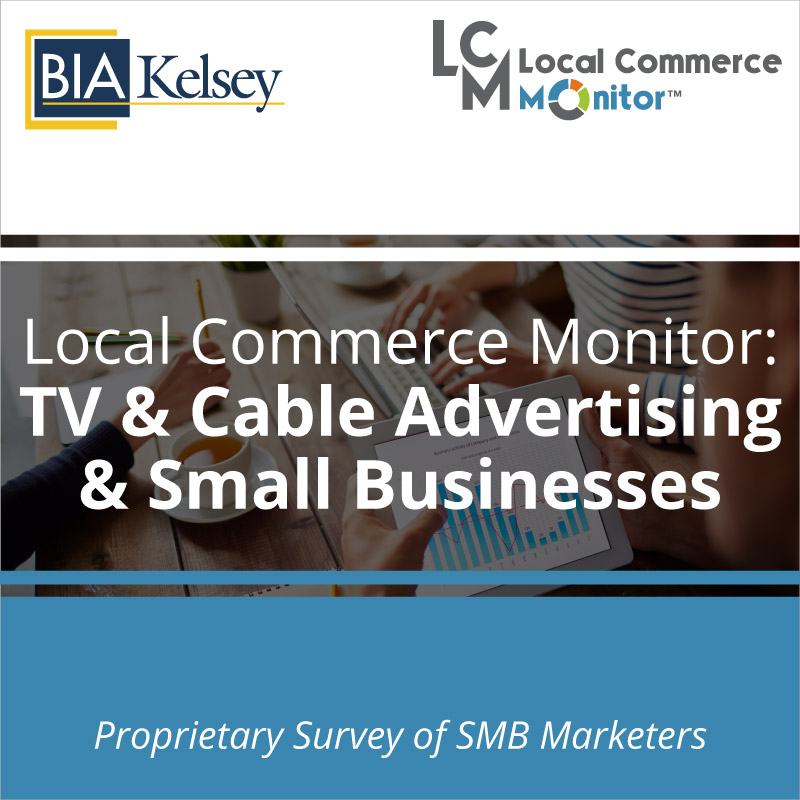 TV & Cable Advertising and Small Businesses
TV and cable advertising continues to command the largest amount from small businesses' advertising budgets. Small businesses, depending on their profits, invest in television or cable advertising. From search, display, video, contests and social media television and cable companies offer a wide range of options for small businesses in local markets. TV and cable providers extending small businesses opportunity to get in front of viewers on multi screens. Broadcasters and cable TV companies will uncover and understand what other complementary advertising small businesses spend on and use along with their broadcast or cable advertising. Where else do these small businesses use their video ads on digital channels is one key area this report covers. BIA/Kelsey's report also provide analysis on the trends in use of sales and agencies to manage small businesses advertising and marketing activities. In the report on small businesses that advertise with cable or TV BIA/Kelsey includes a profile of small businesses that advertise in cable or TV for companies to better understand and segment by size, type of small business. Future spending intentions including future investment in TV and cable advertising and use of advertising products are also covered to help product managers to develop products and services that will resonate with small businesses that advertise on TV and/or cable.
SKU:

151829
Category: Small Business Research Reports
Tags: Ad spend, advertising, Broadcast, Cable, LCM, Marketing, Small business, SMB, television, traditional media, Trends, TV
Product Description
Included in the report on TV or Cable advertising is key data from BIA/Kelsey's Local Commerce Monitor survey of small businesses. BIA/Kelsey's survey tracks more than 50 different advertising products and services that roll up into these 10 top-level groups:
Online advertising (e.g., search, display ads, blogs)
Traditional advertising (e.g., direct mail, newspapers)
Print and online coupons
Broadcast advertising
Giveaway items
Video advertising (e.g., website videos, YouTube)
Mobile advertising (e.g., search, SMS, display)
Social advertising (e.g., Facebook, Twitter, Pinterest, Instagram, promoted tweet)
Print and digital directory advertising
Community sponsorships and advertising
Who Should Read This Report?
Executives in charge of marketing and/or product development targeted to small businesses
Senior leaders evaluating opportunities in the small business marketplace
Any executive with a role in selling digital or cable, TV advertising media products
Anyone focused on the trends and direction of SMBs that use TV or cable