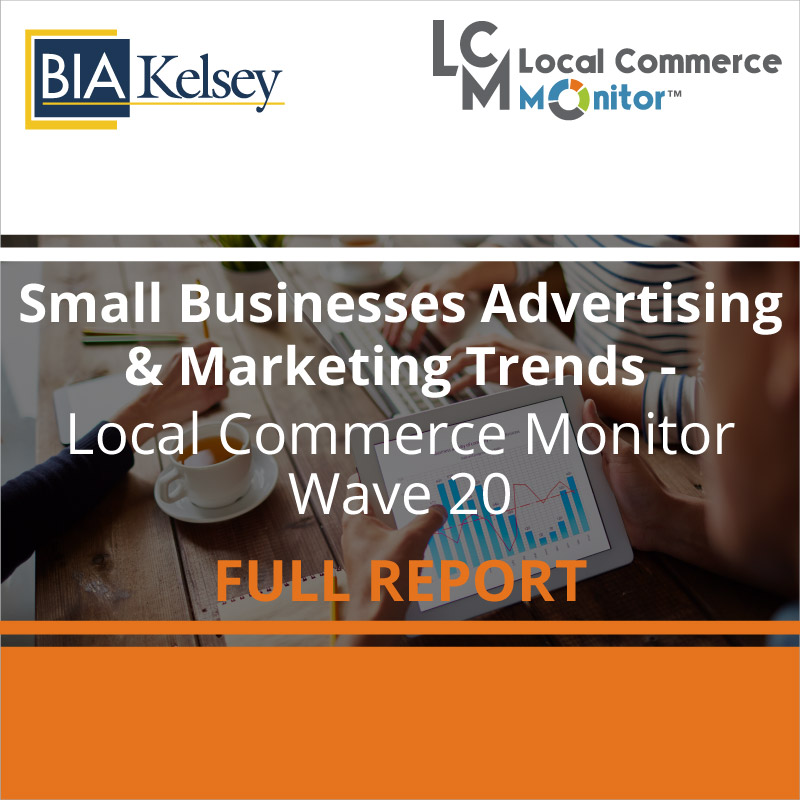 Small Businesses Marketing & Advertising Trends – LCM Wave 20 Full Report
Need to understand what makes small-business marketers tick so you can map the right strategy for 2017? BIA/Kelsey's Local Commerce Monitor™ (LCM) can give you answers. LCM is BIA/Kelsey's proprietary annual survey of 1,000-plus small and medium-sized business marketers (100 or less employees). The latest wave, LCM Wave 20, has new topics and the largest sample size ever. Map current and future advertising spend and use of 55+ channels ( likeTV, radio, SEO, search,  Facebook ads, audio ads etc.) with this data. Today's small business use multiple paid and free advertising products. With this report you will gain why small businesses spend and use different types of advertising over others, including what they do and don't spend the most on and where they plan to spend in the future. Franchise and co-op program marketers will find opportunities with the co-op and franchise advertising spend results. For agencies and sales teams, the report shows small businesses usage of agencies and their opinions as well as benchmarks for sales to have successful sales calls. Marketing services and technology companies can uncover how small businesses view and use DIY versus managed services. Companies selling marketing analytics can understand what metrics small businesses value and how they measure ROI and performance.  These and other topics like beacon use and programmatic use are answered by BIA/Kelsey's Local Commerce Monitor™ (LCM) Wave 20 – Full Report.  This exhaustive report of 103 charts covering 60+ topics includes firmographics.
Category: Small Business Research Reports
Tags: Ad spend, advertising, Advertising budgets, Beacons, Digital media, Directories, LCM, Marketing, mobile, mobile advertising, online advertising, Sales leads, Sales tools, Small business, Small business services, SMB, Social media, traditional media, Trends
Product Description
The report offers a comprehensive overview and analysis of the 30 minute survey from all 1,000 small business respondents (key marketing decision makers in the businesses). The BIA/Kelsey report on small businesses advertising and marketing trends is a comprehensive deck that includes 103 charts, plus firmographics. This report covers the following areas and more:
Advertising channels used, not used and want to use in the future
Spend by advertising product or service used and future spend
Franchise involvement in marketing and Co-Op dollars spent
Average annual advertising spend and budget for each media used
Size and use of customer lists and use of loyalty programs
Small business use of agencies and marketing services
Preference for do-it-yourself vs. do-it-with-me advertising and marketing
How small businesses are using:

Different types of leads
Social media
On demand services
Analytics
Cloud-based services like storage, CRM and scheduling systems
Technology such as mobile payment, beacons and IoT
BIA/Kelsey's report on small businesses tracks over 55 different media platforms, which fall into top-level groups:
Online advertising (e.g., search, display ads, blogs)
Traditional advertising (e.g., direct mail, newspapers)
Print and digital coupons
Broadcast advertising
Local sponsorships and trade show advertising
Video advertising (e.g., website videos, YouTube)
Mobile advertising(e.g., search, SMS, display)
Social advertising(e.g., Facebook, Twitter, Pinterest, Instagram, Promoted Tweet)
Print and digital directory advertising
Leads, Beacons and IoT (internet of things)
Who Should Read This Report?
Executives in charge of marketing and/or product development targeted to small businesses
Senior leaders evaluating opportunities in the small business marketplace
Any executive with a role in selling digital products to small businesses
Anyone focused on the trends and direction of small businesses
Franchisors, brands and marketers running co-op advertising programs
Venture capitalists, business entrepreneurs investing in the local advertising space