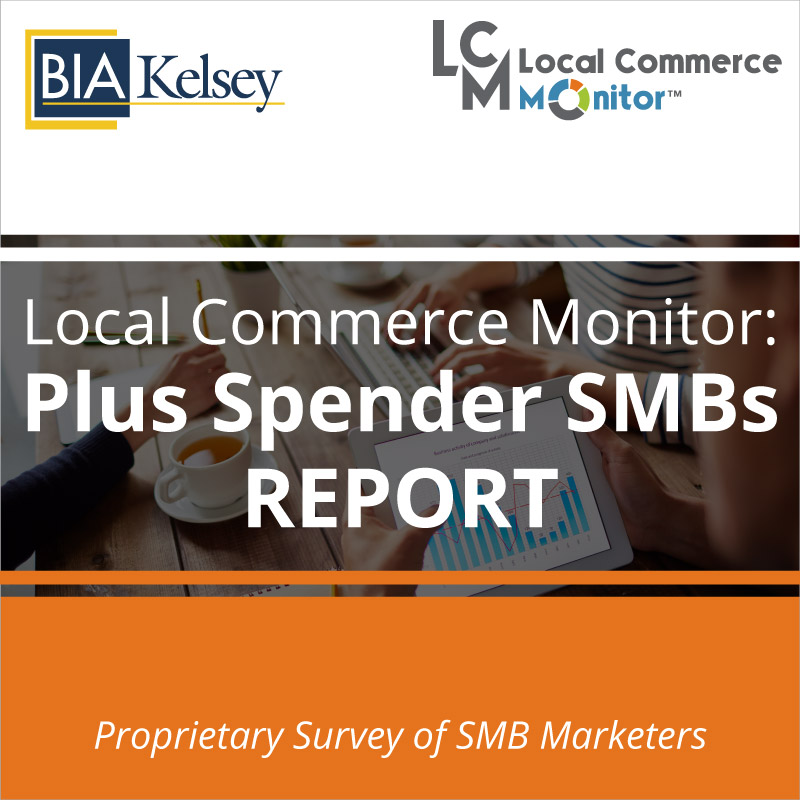 Plus Spender SMBs REPORT – LCM Wave 20
Small Businesses in the US are diverse in size and spend on advertising. Larger small businesses have larger advertising budgets and spend more annually. This report examines the opportunity and preferences of small businesses respondents segment called Plus Spenders from BIA/Kelsey's  Local Commerce Monitor™ (LCM) survey. Our Plus Spenders sample focuses on small businesses that  that spend more than $25,000 annually on advertising and marketing. Companies that work with larger multi location small businesses and franchises will find this report vital for selling marketing services, advertising and marketing software. Plus Spenders have unique advertising foot print; they use more channels and behave differently from small budget small businesses. Besides spending more, they use analytics and business tools at a higher rate in order to optimize their marketing efforts. This reports examines and provide suggestions for leaders in product marketing, sales and strategy on what they should be offering to Plus Spenders. The report, with our proprietary data also looks at the future marketing and advertising use and spend by this group of small businesses.
SKU:

151821
Category: Small Business Research Reports
Tags: Ad spend, advertising, Digital advertising, Digital media, Directories, LCM, Marketing, Medium business, mobile, online advertising, Small business, SMB, Social media, traditional media, Trends, Verticals
Product Description
Included in the report on Plus Spenders is key data from BIA/Kelsey's Local Commerce Monitor (LCM) survey of small businesses
Online advertising (e.g., search, display ads, blogs)
Traditional advertising (e.g., direct mail, newspapers)
Print and online coupons
Broadcast advertising
Giveaway items
Video advertising (e.g., website videos, YouTube)
Mobile advertising (e.g., search, SMS, display)
Social advertising (e.g., Facebook, Twitter, Pinterest, Instagram, promoted tweet)
Print and digital directory advertising
Community sponsorships and advertising
Who Should Read This Report?
Executives in charge of marketing and/or product development targeted to franchises and multi-location businesses
Senior leaders evaluating opportunities in the small business marketplace
Any executive with a role in selling digital or traditional media products to small businesses
Anyone focused on the trends and direction of small businesses